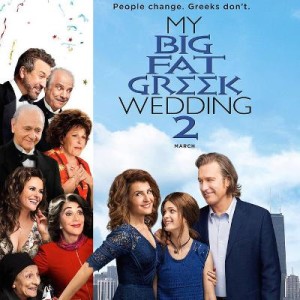 Most criticisms of this movie can be summed up in one word – "unoriginal" – but is that fair? It's a sequel, people! Think of it like this: If you went to spend time with a friend whom you haven't seen in 14 years, would you be happy if your friend acted completely differently than the last time you were together? What if that friend refused to talk about the history you two shared, instead insisting on discussing all new topics, expecting you to enjoy that conversation as much as you'd enjoy a little reminiscing? Well, this film doesn't make those mistakes – and is to be commended for it! For those of us who loved the 2002 original, seeing this movie is a lot like visiting an old friend – and it's a visit filled with the perfect combination of fond memories and new experiences that are both fun and sweet.
Correction: Seeing "My Big Fat Greek Wedding 2" is like visiting a LOT of old friends. First up is our host, actress and comedienne Nia Vardalos. She wrote the screenplay for the original, which became the highest-grossing romantic comedy of all time (!) and earned Vardalos an Oscar nomination for Best Original Screenplay. Naturally, Hollywood types and ordinary fans alike have been asking her about a sequel ever since, but she cared enough about quality and her own integrity that she says she didn't write the sequel until she had a story that she felt was good enough, and she was ready to write it well enough to be worthy of the original. And when Vardalos wrote her new story, she brought back all the main characters from the first film – and many of the minor ones – and all played by the original actors! Our calendars tell us that the sequel came 14 years after the original, but that's 18 years to a Greek (or, at least, to these Greeks). Toula (Vardalos) still lives next door to her parents, Gus (Michael Constantine) and Maria (Lainie Kazan) and she's still married to Ian Miller (John Corbett), with whom she is raising their daughter, Paris (Elena Kampouris). Paris is a 17-year-old high school senior who, like her mother before her, works part-time at the family-owned Greek restaurant, feels smothered by her loud, proud, loving but meddling Greek family, and wants that proverbial "something more" out of her life. Paris' plan is to go to college – as far away from her Chicago home as the continental U.S. can carry her. Toula is struggling to deal with her only child leaving – and with keeping the passion in her and Ian's busy lives.
And then there's the rest of the family. Just to cite a few examples: Ian's best friend, Mike (Vardalos' real-life husband Ian Gomez), has gotten married and become a police officer. Toula's cousin, Angelo (Joey Fatone) is the last unmarried member of his generation in the family and he's catching some flak for it. Toula's Grandma Yiayia (Bess Meisler – who is believed to be in her 90s), who is, of course, also Paris' great-grandmother, is not only alive and kicking, but even funnier and more developed as a character than in the first film. I won't spoil the movie's big surprises by telling you about the changes in all of the characters' lives, but I will say that almost all of their stories are updated – and in ways that are alternately fun, surprising and always logical and right for the individual characters. There are also a few new characters, played by familiar faces such as Rob Riggle, John Stamos and Rita Wilson (the producer who brought the idea of the original film to the production company of her husband, Tom Hanks).
But what about the "big fat Greek wedding" (#2) from the movie's title? Well, the "my" no longer refers to Toula, but to her mother! Gus discovers that his and Maria's wedding license was not signed by a licensed priest, meaning that they were never legally married. Maria sees this news as an opportunity to make Gus woo her more romantically than he did the first time and show her how much he really cares. Obviously (given the movie's title), the old man eventually gets with the program and Maria begins planning a big fat… you know – but when the planning hits a major snag, it starts to look like there will be no Greek wedding after all. This sets the stage for a grand finale which brings together all the film's story lines in ways that are more fun and heartfelt and less predictable than some critics say.
"My Big Fat Greek Wedding 2" is everything a sequel should be. The script, directing and strong ensemble acting all remain true to the original characters. Great running gags from the first film continue (although some are overplayed), but also work well standing alone, while many of the new jokes and sight gags are laugh-out-loud funny. Although there's a minor Gus-centered sub-plot that I could've done without, the multiple story lines are fresh and woven together wonderfully. This film isn't perfect, but it's nearly as hilarious and has even more heart than its much-beloved inspiration. "A"