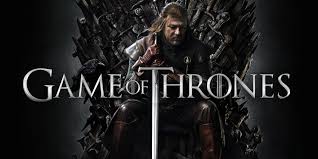 Having read all the books, I suppose it's only natural that I should be completely bored of the TV series. But knowing what happens next hasn't stopped me enjoying and revisiting other books, movies, and shows — in fact I've got a small shelf full of them. Perhaps the trouble with "Game of Thrones" is that it offers so few pleasures besides finding out "what happens next".
The cast is generally very good, and they make the material sound better than it really is. The dialogue is weighed down with clumsy expository speeches — at least one per episode, usually more — with which each actor has to wrestle. Peter Dinklage, as the dwarf Tyrion, stands out as a sympathetic, if self-centered, antihero, and he manages to command the screen even when his lines are stilted, clunky rubbish. Sean Bean, before losing his head, delivered a typically charismatic and soulful performance as the tragic hero Ned Stark, but even he struggled with the exposition. The many child actors, Maisie Williams especially, are more believable, maybe because children aren't normally saddled with huge chunks of Expo-Speak. Much of the rest of the cast have endeavored to create performances so subtle they end up almost wooden, while a few others engage in dodgy accents and some arch scenery-chewing. (Aiden Gillen, as the scheming Littlefinger, gets less comprehensible with each passing season).
The show is heavy on plot, with seemingly several dozen characters all competing for your attention while they vie for the throne of the Seven Kingdoms, or just try to out-maneuver and kill each other off. There's so much plot that there's hardly any room for style, and the show is filmed in a rather dull, stagy fashion: the average scene involves two characters sitting in a room or walking through the woods and trading Info-Dumps or arguing with each other, and periodically someone will get stabbed. The reliance on dialogue means you don't actually have to watch the show: instead you can just listen to it without missing much, except the gore and nudity.
And while there's nothing wrong with a little harmless gratuitous nudity, "Game of Thrones" pours it on with a trashy prurience befitting a sexually precocious 12-year-old boy, rather than an adult of either gender. The male gaze entirely dominates these scenes, apparently designed to appeal to fans of soft-core pornography who want a little high drama with their smut. Their gratuity can be gauged by the fact that the naked women are usually uncredited extras, and very few of the main cast — male or female — appear in these scenes. The gore and violence are equally trashy, with squirting arteries and squishy sound effects, to the point that they become more laughably ridiculous than genuinely painful.
So what happens next? That's really the only thing keeping this show going, as every episode and nearly every individual scene ends with a cliffhanger to keep you coming back for more. Characters are captured, betrayed, condemned to death, beheaded, or left for dead on a regular basis. Ned, Robb, and Catelyn Stark have all passed on, as have Tywin Lannister and his sadistic grandson Joffrey; the fun now will be seeing who gets bumped off next. But if you've read the books, or if you have any interest in watching "Game of Thrones" a second time, the question "What happens next?" isn't going to appeal to you. Even if you just want to watch a good story that's told well, you're going to have an uphill battle with "Game of Thrones".